Sergey Chemezov, CEO of Rostec
Dear colleagues!
I welcome you to the XII International Helicopter Industry Exhibition HeliRussia 2019!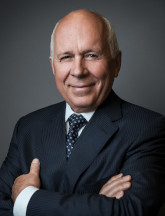 Over the years, HeliRussia has established itself as a reputable basis for showcasing achievements in helicopter engineering. World's achievements of the whole range of products and services of the helicopter industry are presented at the expo. Moreover, the event sets the vector for the long-term business cooperation development between Russia and foreign countries. The expo allows to expand the experience exchange between developers and manufacturers of helicopter-related technologies, equipment, avionics, navigation and communications, and also contributes to the international cooperation development in helicopter industry.
For the enterprises of the Rostec State Corporation participation in HeliRussia, which is organized by the Russian Ministry of Industry and Trade, has become a tradition. Here Rostec showcases a wide range of products – starting with helicopters to civil and military aircraft equipment. Here mutually beneficial contracts are concluded, new promising projects are launched.
I'm convinced that participation in the expo will be productive for all its participants, it will let to exchange the accumulated experiences, to establish a constructive dialogue with potential partners.
I wish successful work and all the best to the organizers, participants and guests of the International Helicopter Industry Exhibition HeliRussia 2019!
CEO of Rostec
Sergey Chemezov