Vladimir Putin, President of Russian Federation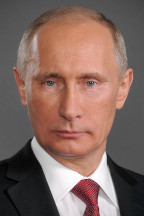 To the Organizers, Participants and Guests of the
XVth International Helicopter Industry Exhibition HeliRussia 2022!
Dear friends,
I am pleased to welcome you to the opening XV International Helicopter Industry Exhibition – HeliRussia 2022!
Over the years, HeliRussia has gained authority and respect at the international arena and within domestic professional community, has become a leading demonstration platform, which largely determines the vector of development of the helicopter industry. Particularly note that, despite the difficult situation caused by illegal sanctions of some western countries, the exhibition serves as a recognized business communication center between Russian and foreign experts.
Importantly, our country has given priority to building meaningful capacity of the aviation industry.
Within the framework of the national project "Healthcare," air medical service is developing actively, well-established helicopters are renovated and new promising models are being designed. Including the innovative MI-171A3 and Ka-32A11M the firefighter designed for offshore operations and maintenance of offshore drilling platforms.
These achievements became possible by the creative and
constructive work of the employees of research centers, specialized industrial enterprises, design and engineering teams, their responsible attitude to the tasks set.
I wish you all the best!
Vladimir Putin
The President of the Russian Federation