Vladimir Putin, President of Russian Federation
To Participants and Guests of the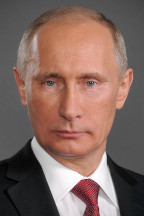 13th International Helicopter Industry Exhibition HeliRussia
Dear friends!
Welcome to Moscow at the 13th International Helicopter Industry Exhibition HeliRussia!
Russia is widely recognized as one of the acknowledged leaders in the global helicopter industry. Our outstanding compatriots stood at the origins of the industry, created leading edge technologies and implemented sophisticated engineering solutions.
It is gratifying that today, Russian aircraft builders, research centers and design bureaus are enshielding and developing these wonderful creative good practices.
They confidently keep a high standard of quality, offer new products and services, successfully promote them in the domestic and world markets. High potential of Helirussia gives full play to this big work being in demand.
The exhibition consistently attracts expert attention also the attention of general audience, serves as a distinguished platform to strengthen international cooperation, build up mutually beneficial contracts and launch advanced projects.
I am convinced that HeliRussia 2020 will be up to par also a memorable experience
for participants and guests.
I wish you stimulating communication and all the best.
Vladimir Putin