Sergey Chemezov, CEO of Rostec
Welcome address to Organisers, Participants and Visitors of the XIIIth International Helicopter Industry Exhibition HeliRussia 2020!
Dear Friends!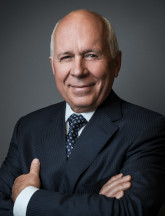 Welcome aboard to the 13th International Helicopter Industry Exhibition HeliRussia 2020.
Annually the exhibition, organized by the Ministry of Industry and Trade of the Russian Federation, unites leading designers and manufacturers of civil and military aircraft from around the globe demonstrating contemporary trends and advances in the field of helicopter engineering, besides HeliRussia is a stepping stone launching mutually beneficial business partnership and new ambitious projects.
Traditionally participate in the exhibition the enterprises of the Rostec State Corporation, those are, "Russian Helicopters","VSMPO AVISMA", "TechnodinamicA," United Engine Corporation" their products are identifiable and commercially successful in foreign and domestic markets.
I am sure that HeliRussia will continue to expand the format and geography of the participants attracting mind of the widest audience as well as attention of business executives and experts together contributing to the development and strengthening of international and intersectoral ties.
I wish the organizers and participants of the XIIIth International Exhibition of Helicopter Industry, HeliRussia 2020 interesting and fruitful work also wish Helirussia visitors – new impressions and all the best!
Sergey V. Chemezov
Director General Rostec State Corporation