Minister of Transport of the Russian Federation Evgeny I. Ditrich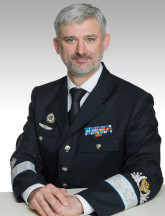 To the organizers, participants and visitors of XIII International Helicopter Industry Exhibition HeliRussia
Dear colleagues!
I am delighted to welcome you at the XIII International Exhibition of Helicopter Industry HeliRussia! Annually, helicopter aviation strengthens global market representation. Helicopters are used by civil services, commercial carriers, amateurs. Domestic helicopter industry is on the rise in the last few years. New aircrafts are b
eing produced. Ansat, Mi-38 and Mi-171A2 are present for duty in different parts of the country. Russian helicopter fleet showed an increase by more than 500 aerial vehicles. Helicopter emergency medical service development project has been successfully launched. All this is a testament to the growing market need for this type of air transport, the importance and great demand for your work.
I am sure that the platform HeliRussia successfully consolidates the ideas and plans of industry representatives that will demonstrate the best developments. I expect that, within the framework of the business program, hot topics will be raised and constructive solutions will be elaborated. I wish the organizers a successful event thereby to contribute to strengthening the position of our country as the leading helicopter power. I wish successful and rewarding work and new contracts to exhibitors and visitors!
Congratulations to all of you on opening the exhibition!
Minister of Transport of the Russian Federation Evgeny I. Ditrich