Denis Manturov, Minister of Industry and Trade of Russian Federation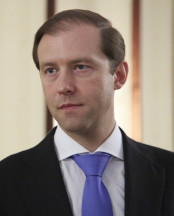 Dear organizers and visitors!
On behalf of the Ministry of Industry and Trade of the Russian Federation and me personally, I'm pleased to welcome you to the XIVth International Helicopter Industry Exhibition HeliRussia 2021.
Annually, we meet to discuss the outcomes of the past year and together form an industry development plan for the near future.
Our joint work forms the basis of many advanced projects, legislative, design, groundbreaking and innovative, insuring domestic industry a place among the world leaders.
HeliRussia proved to be an event drawing attention to hot topics, demonstrating recent developments and creating favorable environment for experience exchange.
Without limiting the foregoing, we are waiting for the exhibition to meet colleagues, partners and friends, discuss news, communicate in an informal atmosphere and strengthen our communications.
I am sure that work of industry insiders, experts and government officials will give a positive result and will have the best impact on the development of the sector in the future.
I thank colleagues, participants and organizers of the exhibition for your undying interest and enthusiasm, dedication to work and business!
I wish you all successful and
fruitful participation in HeliRussia-2021!
Minister of Industry and Trade of Russian Federation
Denis Manturov