Andrey Boginsky General Director Russian Helicopters holding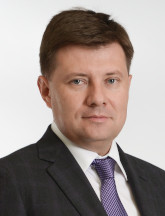 Dear Colleagues!
I am glad to welcome you to the XIVth HeliRussia!
For Russian Helicopters, participation in the exhibition is an opportunity to maintain business contacts and demonstrate the latest achievements. HeliRussia is undoubtedly one of the main events in the Russian helicopter industry.
Helicopter manufacturing is a highly knowledge-intensive sector, all of the participants are united, striving for improvement and new non-obvious insights.
At HeliRussia, we traditionally analyze the gained experience and make plans for further work. This exchange of ideas helps us to create conditions for the development of the industry.
It is gratifying that every year specialists from related industries are joining HeliRussia`s business agenda. Thanks to their participation, we are already introducing and mastering new types of materials and production methods, thereby improving our products and increasing their competitiveness in the international market.
For 14 years in a row, many contracts have been signed during the exhibition, the latest engineering developments have been presented, hundreds of significant meetings and negotiations have been held.
I am convinced that the 2021 exhibition will not be an exception.
I wish the participants a fruitful business program, profitable contracts, new ideas and their essential realization!
Andrey Boginsky
General Director Russian Helicopters holding