Andrey Boginsky General Director Russian Helicopters holding
To the Organizers, participants and guests of the XIII International Helicopter Industry Exhibition HeliRussia
Dear colleagues,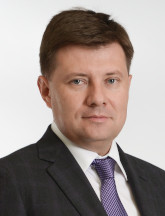 I am happy to welcome you at XIII International Helicopter Industry Exhibition, HeliRussia 2020!
Annually, the exhibition becomes a center of attraction for professionals in the helicopter industry of different countries. We meet at HeliRussia to exchange experiences, present advanced developments and discuss current issues. From year to year, interest in the event increases: the number of participants, visitors, more and more experts from helicopter and related industries take part in the business program, the range of issues discussed by the participants is constantly growing, large-scale projects are launched that form not only the Russian, but also the global helicopter industry
All this contributes to strengthening the image of the exhibition, confirms its high status and significance for the entire helicopter community.
I want to distinguish the business program of the exhibition. A wide range of topics allows us to consider the helicopter industry on all sides and develop a common strategy for further development, also international expert participation provides an excellent opportunity to rely not only on domestic but on global experience.
For the Russian Helicopters holding, participation in the HeliRussia is not just a good tradition, but also an important component in the development of business communications with partners and customers. The joint work strengthens the old ones and forms new business ties, promotes the promotion of domestic products to new markets, and helps to effectively develop international cooperation.
On behalf of the holding and in my personal capacity, wish all participants, guests and visitors efficient work, new contracts, successful negotiations also to the organizers to find new perspectives and attract more and more manufacturers, operators, developers and plainly aviation enthusiasts to HeliRussia.
Andrey Boginsky
General Director Russian Helicopters holding