Ambassador Extraordinary and Plenipotentiary of the Republic of Serbia in the Russian Federation Miroslav Lazanski
Dear friends!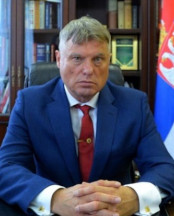 On behalf of the Embassy of the Republic of Serbia in the Russian Federation and on my own behalf, it is such an honor to welcome you to the XIV International Helicopter Industry Exhibition HeliRussia!
Modern Russian helicopter technology represents reliable and high-quality examples of aircraft with improved technical characteristics which enables them to be competitive in the best world analogues, while HeliRussia is the only exhibition in Russia where the world-class achievements of the helicopter industry are represented. It feels great to notice that this year again the exhibition attracts the attention of exceptional experts and a wide audience. After all, former Yugoslavia owned helicopters Mi-8, Mi-24, Mi-14, Ka-25 and Ka-27, while at the moment the Republic of Serbia is armed with Mi-8, Mi-35 and Mi-17 aircrafts.
I wish the organizers, participants and visitors constructive discussions, fruitful exchange of experiences, bold ideas and successful implementation of all scheduled plans!
Ambassador Extraordinary and Plenipotentiary
of the Republic of Serbia in the Russian Federation Miroslav Lazanski