Aleksander Neradko, First Deputy Minister of Transport of the Russian Federation – Head of the Federal Air Transport Agency
To the organizers, participants and visitors of the XIII International Helicopter Industry Exhibition 
HeliRussia 2021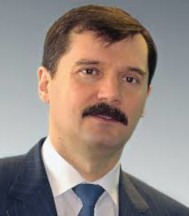 Dear Colleagues,
On behalf of the Federal Air Transport Agency and myself, I am happy to welcome you to the XIII International Helicopter Industry Exhibition HeliRussia 2021.  
HeliRussia 2021 is an event that traditionally hosts representatives from almost all leading companies in this global aviation segment – designers, engineers, manufacturers and operators. Three-day collaborative work of experts showcases the global helicopter industry achievements and innovations to the general public, summarizes the results and shapes plans, as well as maps out the industry development path both in Russia and abroad.
I believe the Russian civil aviation will overcome the challenging economic conditions of 2021. Our industry has great potential: continuous upgrading of aircraft and aviation equipment, implementation of new technologies, expansion of the helicopter services market, infrastructure improvement. I am convinced the Russian Federation will retain its leading positions in the helicopter industry.
I wish HeliRussia 2021 to become a launching platform for new promising projects and to enable a constructive dialogue on the relevant issues of the helicopter industry development. 
I wish you successful and productive participation in HeliRussia 2021!
Alexander Neradko
First Deputy Minister of Transport of the Russian Federation – Head of the Federal Air Transport Agency