Yury Borisov Deputy Prime Minister of Russia
To the participants of the 12th International Helicopter Industry Exhibition HeliRussia 2019
Dear friends!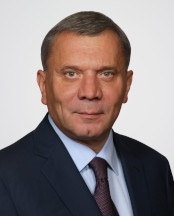 On behalf of the Government of the Russian Federation, I welcome the participants, organizers and guests of the 12th International Helicopter Industry Exhibition HeliRussia 2019.
This expo provides good opportunities for the development of the helicopter business and related industries. It has international demand and aimed at expanding cooperation between different countries' companies. Ultimately, this contributes to consolidation of interstate relations.
The number of exhibitors and the range of showcased products speaks to the importance of helicopter technology for various areas of the economy and social area.
Domestic helicopter industry actively implements modern innovative developments, which contributes to maintaining high competitiveness of our helicopters on the global market along with its quality and reliability. The Russian exhibit will provide business partners, customers and all interested parties with additional opportunities to get acquainted with our tech.
I wish good luck, successful interaction and vivid impressions to all the participants of HeliRussia 2019.
Deputy Prime Minister of the Russian Federation
Yury Borisov