Vladimir Putin, President of Russian Federation
To the participants and guests of the XII International Helicopter Industry Exhibition HeliRussia 2019
Dear friends!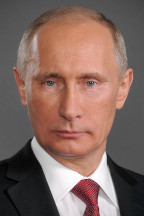 I welcome you to the XII HeliRussia expo.
Your forum, its rich program and plentiful exposition, invariably engages attention of specialists and experts, are recognized by foreign business partners. They serve as convincing evidence that domestic helicopter industry is confidently holds the bar for high quality of work, develops steadily, offers new, demanded products and services, masters the domestic and global markets.
These significant results became possible with efforts of our research centers, design offices, industrial enterprises, relevant business – thousands of professionals working efficiently and responsibly, solving and succeeding at complex tasks.
I'm convinced that HeliRussia 2019 will not only showcase the achievements and capabilities of our helicopter industry, but also will give a start to promising projects and initiatives. It will contribute to strengthening of technological and investment potential of the industry. And of course, it will be a big, festive event for numerous aviation fans.
I wish to all efficient communications, vivid and unforgettable impressions and all the best.
President of the Russian Federation
Vladimir Putin