Deputy Minister of Transport Of the Russian Federation I.P. Chalik
To Organizers, Participants and Visitors to the XIVth International Helicopter Industry Exhibition HeliRussia 2021!
Dear Colleagues!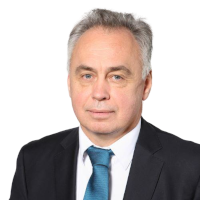 On behalf of the Ministry of Transport of the Russian Federation, I am pleased to welcome you to the XIVth International Helicopter Industry Exhibition HeliRussia 2021.
It is impossible to overestimate the importance of helicopter aviation in transport system of our country. At all times, helicopters were the main workers in the north, assistants in agriculture and regional aviation, a backbone for emergency medicine and reliable defenders of the Motherland at all of the end-points. 
Despite all the difficulties caused by the COVID-19 pandemic, the helicopter industry was able to correctly respond to new challenges and prove its reliability.
HeliRussia brings together the ideas of industry participants and the resources of government officials to implement bold and ambitious projects. The exhibition's contribution to solving industry problems is also important. The topics of HeliRussia business program reflect the current agenda and foreshadow the issues that will arise tomorrow.
Over the years, HeliRussia has remained the largest helicopter forum in Russia and Central Asia, as well as one of the leaders in Europe.
I wish the participants and guests of the exhibition an expansion of their professional horizons and fruitful work. I am sure that the helicopter industry issues of concern will be raised and solved within the framework of the business program.
Igor Chalik
Deputy Minister of Transport
Of the Russian Federation