Deputy Minister of Transport Of the Russian Federation I.P. Chalik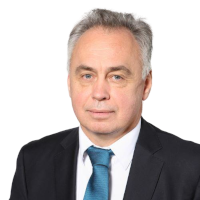 To Participants and Guests
of the XVth International Helicopter Industry Exhibition HeliRussia 2022!
Dear colleagues!
Welcome to the XV International Helicopter Industry Exhibition HeliRussia!
Over the years of the development, the exhibition has become a reputable platform for topical issues discussions and presentations of helicopter industry specialties.
In the context of sanctions heat of unprecedented scale and pressure on the Russian economy, holding such events as HeliRussia is of high importance for the formation of requirements in the industry for measures to maintain its sustainability and boost existing promising programs and projects.
HeliRussia 2022 traditionally gathers leading experts from the industry participants, corporate world and the State agencies in order to outline goals and prospects for maintaining the helicopter industry and develop plans for the future.
I wish all visitors and participants of the exhibition success and good spirits also to the organizers – to develop continuously and improve the principal helicopter area of the country.
Mr. Igor Chalik