Nikolay Gavrilov President of the Association of the Helicopter Industry
To the organizers, participants and visitors of the XIII International Helicopter Industry Exhibition HeliRussia
Dear Colleagues,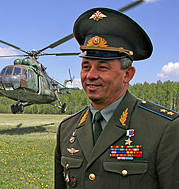 I am happy to welcome you to HeliRussia – the major industry exhibition hosted by the Helicopter Industry Association. Over the thirteen years of its existence HeliRussia has become one of the leading global aviation events and at the same time the largest helicopter exhibition in Europe and Central Asia. This is here where many helicopter industry innovations and achievements are unveiled to the general audience. We are meeting at this exhibition to summarize the results of the past year and outline plans for the future, share our opinions and elaborate a common development strategy.
This year has been a tough time for many industries, including ours. Your interest and participation in HeliRussia evidence its high status and importance for the industry.
The official program covering many areas is a dialogue held by the industry professionals with the business and the state. While discussing important issues we come to solutions, open up new technologies and shape plans for the future.
I want to thank all colleagues, experts, exhibitors and simply aviation lovers for your interest in the exhibition, and thank the organizers for your efforts and commitment during preparation for this paramount industry event. I wish you fruitful and successful participation in HeliRussia 2020!
Nikolay Gavrilov
President of the Association of the Helicopter Industry